If there's anything more comforting than knowing that the care team at your pediatric clinic is eager to meet your baby in the days after you give birth, it's knowing that their office provides comprehensive services you can rely on from newborn through adolescence. That continuity not only is reassuring to you, it can make a child much more comfortable with doctor's office visits, whether for well-child checkups or in the case of an illness or injury.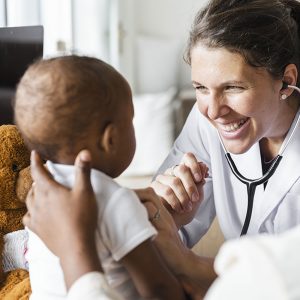 Key Services Your Pediatric Clinic Should Provide
While every pediatric clinic has its own terminology for describing its offerings, there are certain key services you should look for as you are researching your options. Whether you choose to establish a relationship with Mountainland Pediatrics or another pediatric clinic, you want to be sure you have access to the following:
Newborn and infant care. Pediatricians like to see newborns within 2 to 3 days of them coming home from the hospital. Ongoing visits should take place following the schedule established by the American Academy of Pediatrics (AAP).
Well-child visits and physicals. The best way to keep a child healthy is to be proactive and help them avoid illnesses and injuries as much as possible. As with newborn and infant care, your doctor should adhere to the AAP schedule for well-child visits.
Sick-child visits. When your child is ill, you want to have them seen by a doctor as soon as possible. Your pediatric clinic should have ample time set aside each day for sick-child appointments.
After-hours advice. Nothing is worse than being up at night with a seriously ill child and having to decide if you need to make a trip to the emergency room. The pediatrician's office you use should have 24-hour help line that connects you quickly with a nurse who can evaluate the situation and can get a doctor involved if necessary.
Mental health assessments. Mental health issues are the driver for approximately 50 percent of primary care visits in the U.S. Consequently, you want a pediatric practice that makes mental health evaluation an important part of your child's overall care.
Vaccinations. Children who receive the recommended vaccinations are protected from 16 different diseases by the age of 2. A pediatric clinic should offer the full spectrum of immunizations.
Flu clinics. When flu season arrives in the fall, it is helpful to have a pediatrician's office that makes it easy to get children their flu shot.
Hospitalization. If your child requires hospitalization, you want the pediatric clinic you use to be able to admit patients to local hospitals and stay in communication with the care team about your child's condition.
Medical record requests. It should be easy to request your child's medical record when you need a copy.
Making the Right Choice for Your Child's Health
Choosing a pediatric clinic for your child is a big decision. At Mountainland Pediatrics, we make it easier by offering the full spectrum of care for babies, children and teens. To learn more about our physicians, staff and services, please contact us at (303) 430-0823.