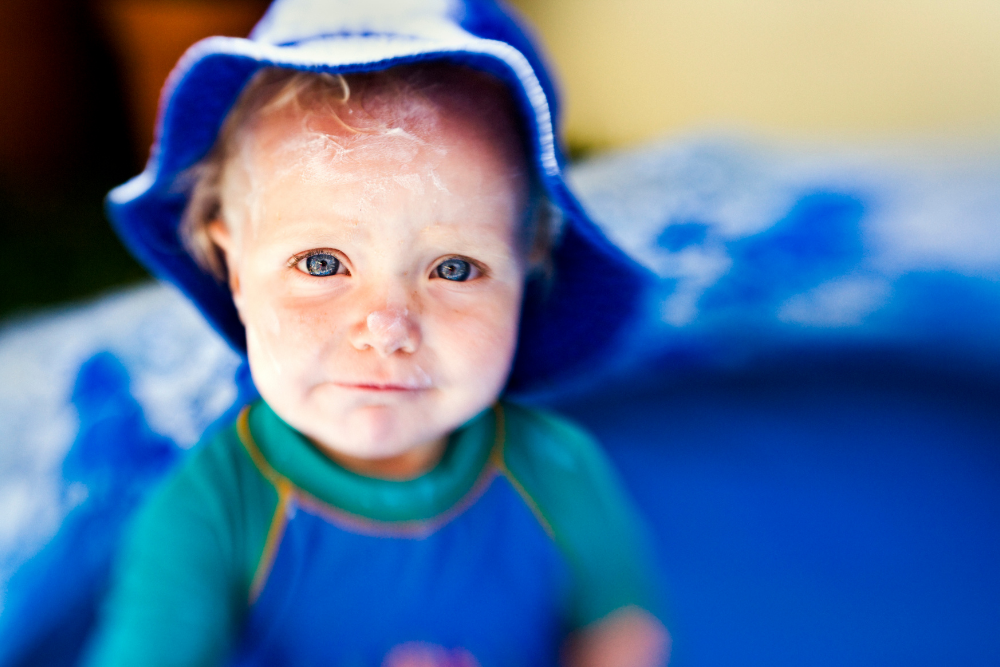 As the warm weather continues, many parents have asked about the best way to protect their baby's skin from sunburn. According to the American Academy of Pediatrics (AAP), this depends on your baby's age.
To protect babies of any age from sunburn, start by dressing your baby in sun-protective clothing such as a long-sleeve rash guard with Ultraviolet Protection Factor (UPF) and a sun hat.
Then, apply a thin layer of baby-safe sunscreen based on the baby's age:
For newborns and babies under 6 months, The AAP says that parents can apply a minimal amount of baby-safe sunscreen with an SPF of 30–50 to the face, back of the hands and tops of the feet. For babies this young, keeping them out of direct sunlight such as in a shade tent or under an umbrella during their first summer may be the best option.
For babies 6 months or older, you can apply a baby safe sunscreen with SPF 30–50 to all exposed areas of the baby's body.
Sunscreen should be applied at least 15 to 30 minutes before going outside. Remember to reapply sunscreen to your baby every two hours and right after swimming or other water activities that could rinse the sunscreen off.
What makes a sunscreen "baby safe"?
When shopping for baby sunscreen, check the back of the packaging for the active ingredient list. Look for a sunscreen with the active ingredient of titanium dioxide or zinc oxide.
These are considered physical or mineral sunscreens, sometimes called barrier creams, which means the ingredients sit on the surface of baby's skin to deflect the sun's rays. I recommend a zinc oxide-based sunscreen because it is the same ingredient that is found in most diaper rash creams and is well tolerated, even by the most sensitive skin.
I would advise against sunscreen that contains oxybenzone, an ingredient that might have hormonal effects. This active ingredient has been banned in Hawaii and some cities in Florida due to concerns that it could be harmful to coral reefs.
Parents should also be careful to avoid baby sunscreens that contain fragrances, dyes or PABA (para-aminobenzoic acid), all of which can irritate baby's sensitive skin.
By: Emily Skrocki DNP, APRN, CPNP-PC
Pediatric Nurse Practitioner at Broomfield Pediatrics