Why Keeping Up With Vaccinations Is Important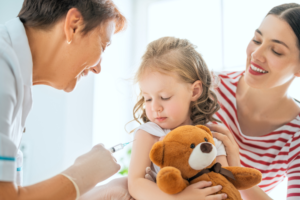 Keeping your child's immunizations up to date is important during the best of times, but especially during a pandemic. Over the last year alone, the rate of childhood immunizations in Colorado has gone down significantly, making our state more susceptible to outbreaks from vaccine preventable diseases.
The CDC approved schedule for childhood vaccinations protects our children from 16 different life threatening illnesses including measles, whooping cough and more. In recent years there have been outbreaks of these diseases, especially in areas with decreased vaccination rates.
The CDC approved schedule is as follows:
How to Prepare Your Child for Vaccinations
The best way to prepare your child for shots can vary based on age. For babies, the CDC recommends distraction and soothing techniques including breastfeeding, swaddling or skin-to-skin contact. For younger children it may be helpful to bring a comfort object, such as a toy or blanket, to help soothe them. Once the shots are over plenty of praise and hugs will help reassure them that everything is okay!
For older children it's important to be honest and prepare them for getting a shot. Help your child see vaccines as a good thing, by explaining to them that vaccines keep them healthy! Engage other family members, especially older siblings, to support your child. Lastly, support your child if he or she cries and never scold a child for not being brave.
For more information on vaccines, including a list of ingredients as well as answers to common questions regarding vaccine safety, please visit the CDC website.
Article written by: Sarah Wilson, Certified Pediatric Nurse Practioner