Winter will soon be upon us and with that comes colder weather and darker days. Knowing the signs and symptoms of seasonal affective disorder is important, especially if you notice changes in behavior and mood that correlate with the season change.
As Coloradans we thrive in the outdoors. Unfortunately, with reduced daylight and warmth, the winter months can keep us stuck inside.
You may hear your family and friends make passing comments about how the wintertime impacts their moods. Believe it or not, these sorts of comments align with science. During the winter there is an increased risk of Seasonal Affective Disorder (SAD). SAD is a type of depression that is triggered by the brain's response to decreased daylight exposure.
Two chemicals of the brain, melatonin and serotonin, are involved in SAD as they help regulate sleep cycles, energy levels and mood. Increased hours of darkness produce more melatonin (a chemical linked to sleep), which causes a person to feel tired and sluggish.  Less sunlight also decreases levels of serotonin which is connected to happiness and the ability to combat depression. This combination can be devastating. Increased melatonin and decreased serotonin creates the biological condition for depression.
What are the signs and symptoms of SAD?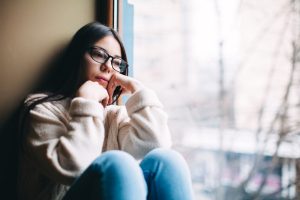 Approximately 6 percent of the population suffers from Seasonal Affective Disorder (SAD), and the symptoms can range from moderate to severe.  It is important to remember that SAD is characterized by changes in mood lasting for several weeks as the seasons change. Symptoms usually emerge in the fall and fade away in the spring.  Some symptoms of SAD include:
Changes in mood (irritability or sadness)
Exhaustion/loss of energy
Difficulty concentrating
Changes in appetite
Difficulty waking up in the morning
Withdrawal from enjoyable activities
How to combat SAD
It is helpful to keep in mind that SAD correlates with the changes of season and daylight exposure. Try to get out of the house whenever possible, even if it's for a brief walk around the block. You can also purchase UV lights for the inside of your home to trick your body into thinking it's outdoors.
Exercise, even if it's indoors, can help increase serotonin levels. Keeping up with a regular schedule at the gym or exercising with workout videos in your living room can keep your mood up.
Making more of an effort to connect with loved ones can also increase feelings of happiness and support during these challenging months. Ask your friends or family to do something different than the usual – perhaps that's coming together to play a board game, doing crafts or baking.
And finally, it might be possible to reframe the situation. Instead of complaining that the weather is horrible, and you're trapped inside, embrace the chance to slow down and relax. Start reading a new book, take a class, watch a new TV series you haven't had time to see or even take up meditation. Remember to share your knowledge about the importance of sunlight with your children, and be active together.
If you ever have a question about your children, want to schedule a check-up appointment, or are looking for a Denver-area pediatrician and want to learn more about our practice at Mountainland Pediatrics, call us at 303-430-0823.