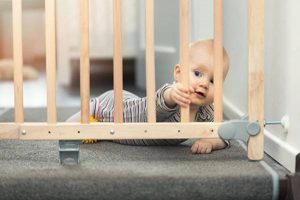 The arrival of the New Year is a great time to look at your home environment with a new perspective on how safe it is for your young children. As we remind parents at our North Denver pediatrics office, unfortunately many common household items that you might not give a second thought to can be dangerous to kids.
Taking Stock of the Potential Dangers Around Your Home
To ensure that your home is as safe as possible for your little ones, it's a good idea to do a quick inspection periodically to determine if any of these potentially dangerous items or conditions are present:

Baby oils and bath products
Some of these types of items contain liquid hydrocarbons, and those chemicals can cause anything from pneumonia-like symptoms to lung damage to death if aspirated into a child's lungs. While these products may seem harmless, they should always be stored securely out of reach of children.

Purses and backpacks
The fact that your child sees you "magically" pulling things out of your purse or backpack makes it a natural source of curiosity to them. But, of course, the sharp or breakable items they contain such as pens or makeup mirrors can be very dangerous. So can medicines you may carry with you. Always prevent children from getting access to your handbag.

Unsecured 'tall' furniture
Children often see bookshelves, dressers and other furniture as a fun climbing challenge. However, when one of these items tips and falls onto the child, serious injuries can occur. Take steps to secure furniture or prevent access to it. Your North Denver pediatrics provider can tell you more about techniques for making furniture safe.

Ranges and dishwashers
Especially when they are open, these appliances pose a significant danger to kids. Touching a recently-opened oven can cause serious burns. And even if the oven is cool, climbing onto the open door can rock the appliance bringing hot items from the stove top down onto the child. Dishwashers may hold sharp items and/or soap that can be very harmful to children.

Latex balloons
Balloons are great as party decorations and can be fun to play with after the event is over. However, they are a major choking hazard to young children who might chew on them or inhale them in trying to inflate them. Always supervise children who are playing with balloons, and immediately collect and discard the pieces of a popped balloon. If possible, use Mylar balloons which are less hazardous, but still provide supervision.

Full bathtubs
Sadly, many child drownings take place in the home. If a curious child gets into a full bathtub that is left unattended, disaster can result. Be sure that children are always supervised around tubs with standing water.

Soft bedding
That beautiful quilt you received as a gift is wonderful to snuggle with on the couch, but in the crib of a child under one year of age, it can pose a suffocation risk. Always keep the crib clear of everything other than a tight-fitting mattress pad and sheet, and possibly a lightweight blanket tucked tightly around the mattress. Always put babies down on their back.
As any parent knows, you only have to turn your back for a second for a child to get into a possibly harmful situation. Knowing what the dangers are and taking steps to address them can help create a safe and secure environment where your children can play and explore with minimal risk.

Simple Steps to Keep Kids Safe
The items and conditions listed above are just some of the things to keep in mind when considering home safety. Fortunately, it only takes a quick walk through your house to spot potentially dangerous situations. You can also find additional household safety resources at safety.com. If you have questions about your children's wellness or to make an appointment, call our North Denver pediatrics office at 303-430-0823.