Dr. Megan Murphy, a new Pediatrician at Mountainland Pediatrics, discusses her background in pediatrics, her passion for helping children with asthma and her adventurous side; including a love for extreme sports.

Where are you from?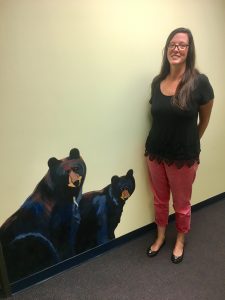 I grew up in Savannah, Georgia.
What brought you to Colorado?
I recently came to Colorado because my sister lives here and I wanted to live closer to her. I also wanted a more outdoorsy lifestyle. I've lived in the South my entire life and wanted to try a new place.
What is your educational background?
For undergrad I went to a small, private school called Washington and Leigh University in Lexington, Virginia and majored in biology. After that I went to Tulane University in New Orleans for medical school and residency.
How did you know you wanted to be a pediatric doctor?
I always knew I wanted to be a doctor because I enjoyed the science behind medicine and figuring out what could be going on with a person's health. I didn't seriously consider pediatrics until medical school when I did my pediatric rotation and fell in love with it. I thought to myself, "Wow, I love coming to work every day. This can actually be fun." After that, I knew pediatrics was the right choice for me. I love playing with the kids and making them happy.
Do you have any sub-specialties?
Throughout my career I've had a passion for the treatment and prevention of asthma. My mom had severe asthma so when I was growing up, I'd volunteer at her pulmonologist's office during school breaks. There were also many asthmatic kids in New Orleans, and I did a lot of work at the hospital to help them.
What is your approach to being a successful pediatrician?
My approach is to be as open, non-judgemental and supportive as I can be. I want the patients and their families to feel comfortable talking to me about their issues and concerns. Even if their concerns are small, I do what I can to validate their concerns and provide the education they need to understand what is happening. I make sure to listen, so the patients feel heard. I take my time with each appointment.
What made you want to work with kids?
Working with kids is exciting and you never really know what to expect from them. There is more opportunity to make lasting change with children by helping them build healthy habits at a young age.
What do you do for fun?
In Colorado, I like to be outside. I also like to fish with my boyfriend who is a commercial fisherman. I also love hiking, camping and live music. I do a lot of activities that have an adrenaline rush like scuba diving, sky diving and cave diving.
What is a fun fact about yourself?
I'm technically a black belt in taekwondo and I have been sky diving ten times.
.