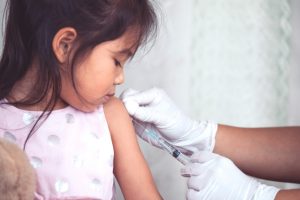 There are many ways that parents protect their children from harm, from baby gates to car seats. Making sure your child receives all the recommended immunizations is another important step you should take to ensure they don't get an illness that could easily have been prevented. At our north Denver pediatrics practice, Mountainland Pediatrics, we recommend all children are fully vaccinated following accepted medical guidelines.
The Important Benefits of Vaccination
Many diseases that used to sicken or kill children can now be prevented with a simple vaccination. This includes illnesses like diphtheria, measles, whooping cough, polio, German measles, tetanus, mumps, rotavirus and Haemophilus influenzae type b (Hib). In fact, the devastating disease smallpox no longer exists outside of the laboratory thanks to immunization.
Below are six reasons to vaccinate your child:
1. Vaccination is very safe and highly effective. Vaccines are thoroughly researched and exhaustively tested before they are given to patients. While mild side effects like redness, pain or tenderness at the injection site may occur, serious side effects are very rare. Plus, while immunizations contain the pathogen that causes the disease, it is either dead or so weakened that it cannot cause illness. Instead, it prompts a child's body to create the natural antibodies needed to protect against future exposures.
2. Immunization can save a child's life and prevent lifelong disabilities caused by disease. More medical conditions than ever before can be avoided thanks to vaccinations.
3. Preventable illness can be very costly. While your top concern is certainly the health of your child, remember, if they become ill with a preventable disease, things like medical treatment, lost time at work caring for a child who can't go to daycare and other issues can take a significant toll on your financial resources.
4. Vaccinating your child helps protect others. A child who does not contract an illness because they are immunized against it will not pass the disease along to other family members, classmates, etc.
5. Immunization can help eradicate a disease. As noted above for smallpox, when enough people become vaccinated against a disease, the illness has no way to perpetuate itself, and it eventually dies off.
6. While some diseases have been eliminated, most have not. The fact that you don't know of anyone who has had a particular illness for which there is a vaccination doesn't mean the pathogen no longer exists. Outbreaks of serious diseases still occur when they are passed from one unvaccinated person to another.
Your Pediatrician can Answer Your Questions About Immunization
Parents who vaccinate their children are protecting them from 16 different diseases by the age of 2. We understand that you may have questions or concerns about vaccinating your children. The American Academy of Pediatrics and the Colorado Children's Immunization Coalition are both excellent resources for parents and provide the answers to the most frequently asked questions.
• Vaccine Schedule for ages 0 to 6
• Vaccine schedule for ages 7 to 18
If you have questions or concerns about vaccinating your child, the care team at our north Denver pediatrics practice, Mountainland Pediatrics is here to address them. To schedule an appointment, please call 303-430-0823.