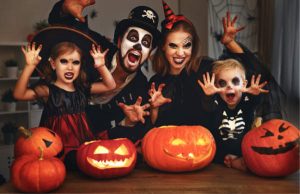 Whether you're an 8-year-old dressed as a zombie or an adult hosting a spooky bash for family and friends, the thrill of Halloween never seems to vanish like a ghost. While candy and fun are usually top priorities for all, safety on Halloween is usually a second thought, at best.
Nobody likes to think about the real-life nightmares that happen on Halloween. In fact, children are twice as likely to be struck by a car on Halloween than any other day. Low visibility on the roads, dangerous costumes and an alarming lack of parental supervision all contribute to safety risks and increased injury rates. However, here are several things you can do to keep your children safe on Halloween.
Visibility is Key – Help your child select a brightly colored costume to improve visibility to cars on the road. Adding reflective material and encouraging them to carry a flashlight or glow stick also helps. Reflective trick or treat bags are also available.
Follow Pedestrian Rules – If possible, select a well-lit neighborhood that is tucked away from busy roads for trick or treating. Be aware that there may be more intoxicated drivers on the road during the holiday, so cutting across streets and driveways have an increased risk. Remind your child to always look both ways when crossing the street and to use crosswalks and sidewalks when they're available.
Some Costumes Can Be Dangerous – Believe it or not, your child's costume may be unsafe. When selecting a costume, choose one that is flame resistant. Masks, face paint or hats can obstruct a child's vision. If your child wants to wear a mask, remind them to take it off between houses. In addition, costumes that are too large may cause your child to trip or fall, so make sure their costume is well-fitted and that they wear sturdy, close-toed shoes while trick or treating.
 Adult Supervision is Important – According to a study produced by Safe Kids Worldwide, one in nine parents (12 percent) have permitted their child under 5 years old to go trick or treating unsupervised. It is advised that children under 12 always be supervised while trick-or-treating.
Don't Be a Pumpkin When Handing Out Candy – If you plan to distribute candy to eager trick-or-treaters this year, remember to keep your lawn and driveway free from potential tripping hazards. Keep your front lights on to increase visibility. If you have a dog, you may want to keep him or her inside to prevent unwanted bites even if they seem friendly and docile most days. Check the candy you plan to give away in case they're damaged, opened or expired. Small hard candy could be a choking hazard, so distribute with caution
If you ever have a question about your children, want to schedule a check-up appointment, or are looking for a Denver-area pediatrician and want to learn more about our practice at Mountainland Pediatrics, call us at 303-430-0823.