When your child has a minor illness or injury, your pediatrician is the best place to go to get care from a team that knows your family. In the case of a medical emergency, however, your child needs the kind of assistance that paramedics, an emergency room or an urgent care are best suited to provide. But how do you know what constitutes a "medical emergency?"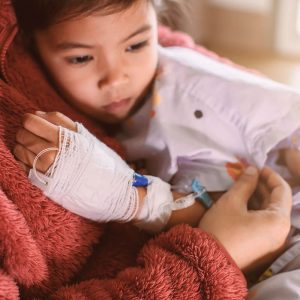 First, it is important to keep in mind that if you are unsure about how serious your child's medical condition is but are concerned that it might be life threatening, a call to 911 is always a good idea. However, the guidelines below can help give you a sense of what kind of action you need to take.
Let Medical Assistance Come to You
With some injuries or illnesses, transporting your child to a hospital or urgent care may take up valuable time that would be better used on getting treatment started. Call 911 and request emergency medical assistance if your child:
Suffers a severe burn
Has an injury to the spine or neck
Is choking and you cannot free-up their breathing
Has bleeding that cannot be controlled
Has consumed a toxic substance
Suffers a head injury and loses consciousness
Has a seizure that lasts more than five minutes
Take Your Child to the Emergency Room
Some conditions require prompt medical care. Take your child to the emergency room if they:
Are having difficulty breathing
Have a high fever with a stiff neck and headache
Have a broken bone that breaks through the skin
Are coughing up or vomiting blood
Have a persistent racing heartbeat
Experience a sudden loss of sight, speech or movement
Suffer a serious burn
Experience vomiting along with dry mouth and a lack of tears and urine for 8 or more hours, or seem delirious
Have a severe reaction to food, medication, an insect bite or sting, etc., including shortness of breath, swelling of the lips or mouth, mental confusion or persistent vomiting
Are difficult to wake up
Have a body part near an injured bone that is cold/pale, tingling or numb
Suffer a deep wound with significant bleeding
Are less than 2 months old and have a rectal temperature greater than 100.4 degrees Fahrenheit
Visit Your Pediatrician or an Urgent Care if After Hours
Most medical conditions that children experience can be handled by your pediatrician or, if it is after hours, an urgent care. Use one of those providers if your child seems to need medical attention related to:
A cough, cold or sore throat
Vomiting or diarrhea
Minor cuts or scrapes
An earache
A sprain or strain
A urinary tract or bladder infection
When in Doubt…
Again, if you are unsure about the seriousness of an illness or injury, seek medical advice. You may be told that you can manage the condition at home or instructed to get assistance, but either way, it is a good idea to talk with a medical professional. To schedule an appointment with a pediatrician at Mountainland Pediatrics, please contact us at (303) 430-0823.